Nearly every computing service is moving to some form of cloud computing. For most retailers, the best option is to use one of the large cloud providers such as Amazon, Microsoft or Google.
This bypasses the need for large capital expenditures and allows merchants to reduce expenses by optimizing cloud architecture.
Autoscaling is one of the key features of Amazon Web Services [AWS] that allows retailers to quickly expand while saving money. Clients only pay for the bandwidth they use with the option of automatically using more bandwidth if necessary. This means that a small retail operation pays minimal hosting fees, but is ready for a sudden rush or the holiday season.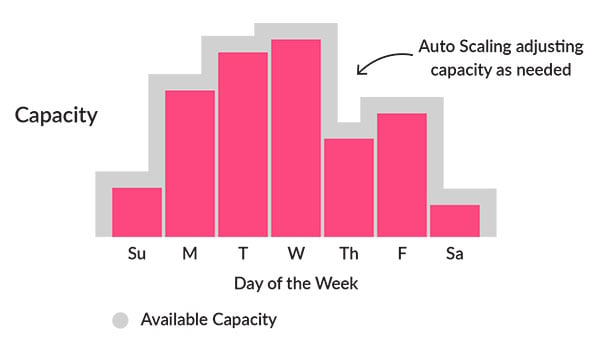 Autoscaling automatically adjusts capacity so you pay for exactly what you need.
Gartner ranks AWS in the Leader Quadrant for Data Management Solutions for Analytics, making AWS cloud infrastructure a compliment to an overall data-driven strategy for retail organizations. Additionally, Amazon CloudWatch and QuickSight offer robust data analysis tools including machine learning.
Most importantly, the major cloud providers have a solution that just works. Nearly 100% uptime keeps your store accessible to shoppers around the clock. Reliability and reduced infrastructure costs provide the best solution for handling the computing needs of even the largest retailers in the world.
A Case Study in Reducing Costs by 45% with AWS
A large multinational retailer with 100s of millions of transactions a year came to eTeam asking us to audit their cloud architecture before Black Friday and the holiday rush.
The eTeam Solution
Our solution architects audited the client's existing cloud infrastructure and found huge room for improvement.
The first order of business was switching to autoscaling to better handle seasonal fluctuations. Most retailers have similar patterns of low traffic during the dog days of summer and massive spikes over the holidays.
Pre-purchasing instances is another way to reduce cloud spending. Our engineers use machine learning to create detailed projections that allow us to maximize your savings.
The Bottom Line
When all was said and done, we had reduced our client's AWS bill by 45% while adding better data analysis features and improving performance to handle daily visitor spikes of over ten times their regular load during the holidays.
We're a certified AWS consulting partner and ready to discuss how we can help your company optimize your cloud hosting.