Retailers encounter several challenges as they carry out their day-to-day activities. These challenges cut across their marketplaces, online stores and physical stores. Retailers are under pressure to modernize their stores to meet present-day customer needs.
Consumers, on the other hand, are becoming more tech savvy and choosy when it comes to buying products or services. They want to shop at retailers that use the latest technology, hence the need for retail software solutions such as the POS management system.
Example of what your point of sale system screen may look like
How Retailers Benefit from the Software
As a retailer, when you decide to make your store POS-ready, you need to have a functional retail POS management software in place. It is important to understand that businesses like yours are unique and have their own unique requirements. To address your store's unique needs, a custom POS management system can come handy. Here are some of the benefits you'll reap from this software solution.
Robust E-commerce Integration
Custom retail POS management software allows retailers to easily work with other retail management software. They get to integrate this software with their e-commerce platforms to streamline the management of their stores. When a retailer wants to upgrade to another e-commerce platform in future, there's no need to get a POS integration done or buy another POS software. The existing POS management software can easily integrate with any new retail management software they update or procure.
Tax and Accounts Management
With the right POS management software in place, retailers can get several things in their stores updated. These include tax payable, customer deposits, inventory, accounts payable and accounts receivable. They get to know how much capital they have in their accounts. This information can help them in making instant purchases if they find a good deal.
Retail stores deal with different types of taxes from time to time. The amount of taxes they pay depends on factors such as tax bracket and revenue earned. A good POS management system can enable them to effectively manage these taxes. It also helps them reduce the time and costs associated with tax planning and management activities. Using of advance tools to simplify the complexities of taxation is preferable, factoHR can handle the entire taxation process for the payroll from a single platform and keep the organization away from any unlawful process. It's a solution to handle your business's financial concerns better.
Omnichannel
Experience for Customers
Most successful retailers are always on the verge of giving their customers flexibility and comfort that other retailers don't give. The comfort and flexibility come with the omnichannel experience that they add in their service delivery mechanisms. This initiative lets them enhance their wide range of services.
A POS management system helps retailers to give their customers this kind of experience. It allows them to give the customers an option to purchase a product online and pick it up from a pick-up store. Clients also get to buy a product from one store and make returns if the product fails to please them in another store. A POS management system can create such a channel by handling all the data from a retailer's marketplaces, e-commerce website, warehouses, and store.
Inventory Control
To effectively run a retail store and generate profits, one needs the right inventory management system in place. The system helps a retailer to make sound decisions on consumption and purchasing habits. POS software solutions come with tools for managing inventories of retail stores. These tools include product-based automatic productions, product tracking, faulty or damaged product recording and alerts on low stocks. Retailers need such tools to maximize profits and get to know the type of products that don't suit their stores.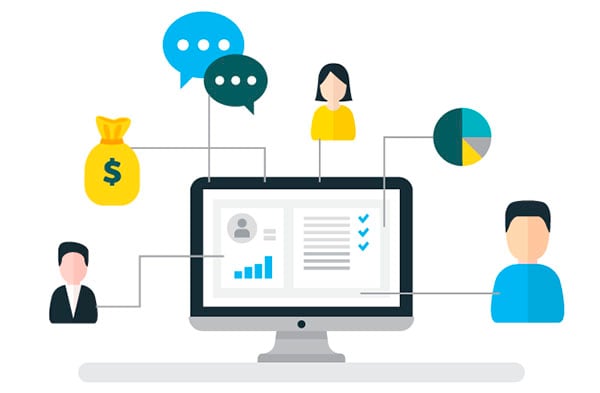 Customer Relationship Management (CRM)
As retailers manage their customer data, there's need for them to update their customers on their current promotional offers. They should have a system that can email the customers electronic receipts of their purchases. A POS management system can facilitate these retail tasks. It keeps the consumers posted about the latest offers in a retail store.
POS management systems also aim at improving a retail store's customer relationship management (CRM). It achieves this goal by generating customer rewards and loyalty programs. These CRM initiatives mostly target the buyers that frequently shop at a particular store. They also attract new buyers to the store.
Employee Management
The traditional method of tracking the working hours of employees involves a spreadsheet program or punch cards. This method is quite tedious and time-consuming. POS management systems hit the market with a goal of changing how retailers conduct such processes. The systems enable the retailers to record employee details and easily track all their employees. They no longer have to spend most of their time recording and tracking their employee details manually.
Besides tracking the working hours, a retail POS program can calculate employee payroll. It can also carry out automated fund transfers. Retailers get relief when it comes to generating payrolls for their workers using this program. They get to automatically generate the performance reports and salaries of their workers conveniently.
What is POS Management Software
Brick and mortar retailers rely on Point of Sale (POS) software to manage their sales. The POS management system can exist in the form of a computer or a cash register. At brick and mortar stores, cashiers use it to tally a customer's purchase and process a financial transaction. Most POS applications can communicate with inventories to achieve balance in a retail store.
Today, retailers are adopting custom POS management systems such as the cloud-based POS software. These custom software solutions are increasingly becoming popular because of the benefits that they exhibit. They allow the retailers to spend less and access their customer data from anywhere. The adoption of these solutions is growing by 12 percent yearly from 2017. The numbers will continue to rise as more merchants adopt the custom POS systems.
Final Thoughts
Consumers are always in need of the best customer experience. They want to have shopping experiences they never experienced before. If your retail store doesn't feature what they want, they won't hesitate to buy the same product or service from a different store. As a retailer, you need to master the art of pleasing these consumers. In fact, customer satisfaction should top your list of retail priorities. To get an edge over your retail management processes, be sure to have the right POS management system running in your store.