June brings exciting news for us! Extensive experience in delivering full-cycle software development services enabled eTeam to hit the lists of the leading web and mobile development companies according to prominent online directories and research agencies.
eTeam more than just a software development company. We are an innovator's engineering team that helps our clients – leading SaaS companies to develop the most effective and efficient solutions. Since 2010, we've been adding our own touch to what InfoWorld calls the "software defined world" and have been successful in the process. And now, we are excited to announce that we have received a Clutch Leader Award this month as a leader among their list of Ruby on Rails developers!
A B2B ratings and reviews platform, Clutch is based in Washington DC and conducts in depth research on companies worldwide. Each company's profile contains an Ability to Deliver Score, determined by market presence, work quality, and client experience. Clutch takes the latter very seriously and interviews prior clients over the phone, publishing the feedback on the company's Clutch profile. Our profile has an overall rating of 4.9/5 stars! See what one of our prior clients told Clutch below.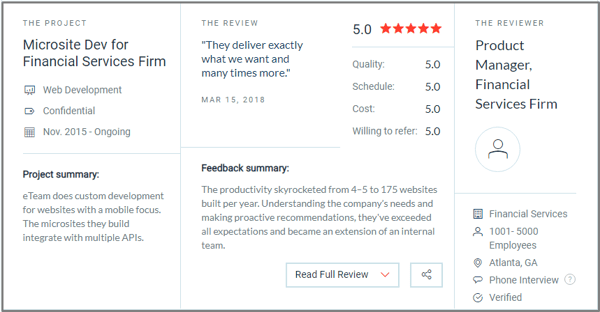 We have also received recognition on Clutch's sister websites! The Manifest, is a business news and how-to website that compiles and analyzes practical business wisdom for innovators, entrepreneurs, and small and mid-market businesses. eTeam has been placed on their software developers list.
However, that is not all the news for today! eTeam has recently been featured by a trustworthy analytics company TechReviewer.co as a leading Software Development Company in 2019.
We are honored to be recognized as one of the best software development companies worldwide. We will continue to justify the confidence placed in us by our clients and partners. We believe we will reach new heights, expand our technology expertise and gain more winning awards in custom software development, mobile and web app development.
Thank you to everyone that has supported our team over the years. We look forward to keeping up the good work for our clients. Please don't hesitate to reach out if you want to learn more about our award-winning services or get a quote for your next project.