At eTeam, we've got all your software development needs covered under one roof. We're a team by entrepreneurs, for entrepreneurs. So, we're excited to announce that Clutch, a ratings and reviews platform based in Washington, D.C., recently included eTeam in the top 1000 companies of their global press release. This list comprises the 1000 companies with the best history of delivering quality services to satisfied customers.
Clutch's mission is to help buyers make the most informed decision when selecting a service provider. Their research allows us to see where our company stands compared to others in our industry. Our ranking on Clutch depends on various factors: our expertise, our media recognition, and more. Clutch conducts telephone interviews with our former clients to analyze how our work has served them. Between all these factors, eTeam received high marks across the board, including a high ranking on their list of top Ruby on Rails development firms.

The feedback from our former clients has been awesome so far; take a look at some of the quotes from our reviews: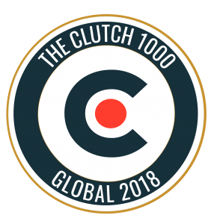 "They stand behind what they produce and truly believe in what they do." – Director, Financial Services Company
"Their technical expertise was top notch!" – Head of Technology Consulting, IT Outsourcing Company
"They excel at being nimble when changes during the development process change the scope." – CEO, CIENCE

We strive to be innovative and effective leaders in our field. We're passionate about helping our clients and with Clutch, we've learned that our clients share the same pride in their projects as we do. We're even more motivated now to boost our ranking on Clutch and their sister websites: The Manifest and Visual Objects were you can see our top-notch portfolio items.

Thank you to everyone that has supported our team over the years. We look forward to maintaining our stellar rankings in 2019. Please don't hesitate to reach out if you want to learn more about our award-winning services or get a quote for your next project.