eTeam is named as one of the most reputable IT outsourcing companies in Ukraine by Clutch.co, a DC based technology market research firm that provides independently verified ratings and reviews for companies in digital industries.
Their analysts recently spoke with some of our clients, and we are proud to announce that we receive top scores on our development performance.
Our portfolio showcases some of the incredible work we've done, and these in depth reviews give the client perspective on what it is like to partner with eTeam. One client, the CEO of the Los Angeles-based company, Helpware, gave us great feedback on our API development skills.
"Overall, the ease of implementation of the API is a big differentiator. eTeam has built APIs for large e-commerce companies like Best Buy and Walmart. Because of this, they have a solid grasp on how to develop APIs, integrate with other third-party platforms and applications, and create the documentation that makes it easier for other developers going through a discovery process to understand."
When asked what is most impressive about our team, he went on to say:
"eTeam has a good combination of process, product management capabilities, leadership, pricing, and quality of service, which makes them an outstanding provider."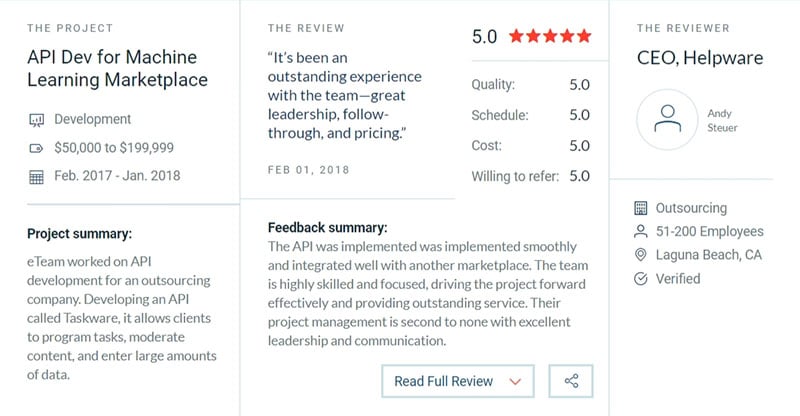 Another US-based FinTech company, was in need of a development team to set up a platform to run their business. And here's what they think of our performance:

"They put together a plan and followed it, meeting the timelines that they had set. They're very transparent and update us regularly on the progress of the project. If something comes up, we're always able to get in touch with the right people and address the issue immediately."
eTeam impressed them with the level of ownership, loyalty and dedication:
"They stand behind what they produce and truly believe in what they do. Also, they're flexible and understanding when things change."
Weather you're an enterprise or an entrepreneur, if you are interested in learning more about our services, please contact us and check out our full reviews on our Clutch profile.