TL;DR:
With the right engineering partner it's possible to crank out an MVP for under 15k as a non-technical founder, but get ready to be involved with the process and immerse yourself in the business side of things.
Let's say you have an idea for the next great app and want to take the plunge and found a startup. Is this a realistic possibility for mere mortals not cut from the Silicon Valley cloth? It certainly is, and the availability of high-quality development teams is making it easier than ever.
Here are the most frequent questions I get from those looking to stick their toe in the water of the startup scene:
Do I have to know how to code in order to launch an app?
Do I need millions of dollars in venture capital funding to get started?
What's a more realistic budget to launch an MVP?
What's really involved in the development process?
Are non-technical founders a real thing?
One of the most common misconceptions is that most founders are wunderkind coding whizzes.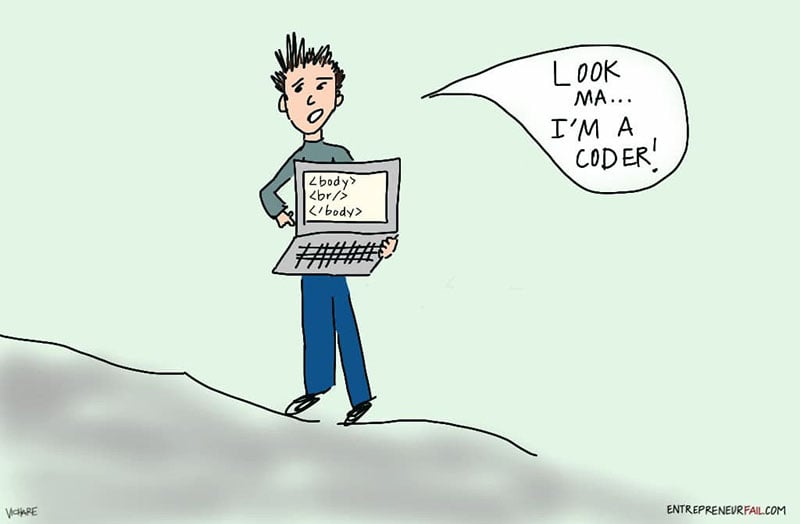 The reality is that founders bring business acumen, marketing knowhow and fantastic organizational skills to the table. Without these, even the most cutting-edge tech is a lamp under a bushel. When a founder has a technical background, they rarely end up writing code on a day-to day-basis for their startups. More often than not, tech co-founders quickly find themselves managing engineers, hiring processes and the like.
One of the best examples of innovation in ideas and management that used existing technology combined with dynamite marketing is the Dollar Shave Club:
The Dollar Shave Club went on to be acquired for a billion dollars. Not bad for a startup that thumbed its nose at technology (while using technology for viral marketing)!
When not to consider a development agency
Using a development agency isn't the right fit for every startup. For instance, startups that require a lot of R&D, use an incredibly niche tech stack or are developing completely new technology themselves might be better off keeping that sort of development in-house.
The question might be rephrased: Does technology help your core business or is technology your core business? In the former case, outsourcing can be a quick way to scale whereas in the later case building an in-house team might make more sense.
Startups with extremely small budgets will also have trouble finding quality developers on the international market. When you start scraping the bottom of the barrel of the major freelance sites, you're unlikely to get high-quality, maintainable code. In the end, you'll wind up with headaches and spending more money down the line.
Ok, so who should use a development agency?
Any startup that has a clear vision of what they need an MVP to do and can implement that MVP using more or less standard technology, is in a good position to start looking at development agencies. The typical team at a mobile application development agency can handle the whole range of web development using the most common languages and frameworks such as Ruby, Python, Java, PHP and JavaScript. Even moderately-sized agencies tend to have data scientists to add machine learning and advanced analytics to projects. Agencies almost always have DevOps specialists that can optimize cloud hosting and other deployment issues.
This description fits a wide swathe of the online companies that dominate the Alexa rankings and leverage innovative ideas with new approaches while using old or 'uncool' tech stacks. The early versions of Reddit, eBay, Facebook, Twitter and Craigslist all took really neat ideas and brought them to life using existing technology.
If you have a similar idea, problem to solve or niche to fill, by all means look into a using a development agency.
How to look for the right development agency
If you search for 'cheap development agency' and go with your first result, you're playing Russian Roulette with your startup. Thankfully, it's no longer the Wild West, and you can get honest reviews for outsourcing companies around the world. Services such as Clutch are a huge help in finding reputable partners with proven track records.
Almost every outsourcing project is done under a strict NDA, so don't expect every agency to be able to give you an extensive client list. Instead look for a few solid reviews that you can verify and some portfolio projects. Hop on a call with agencies rather than merely relying on email; this is a great way to check their English and ease of communicating with them.
The absolute best option is to spend a week or at least a few days visiting prospective partners in person. Europeans are lucky in this regard, since they are just a short flight away from some of the biggest areas in software development: Ukraine, Poland, Romania and other Eastern European countries. For Australians and North Americans, meeting teams virtually is a more realistic option. Definitely take the time to do some video conferences, ask to talk to developers and do your research.
From idea to prototype
Once you've found an agency that you'd like to work with, the first order of business is creating a prototype for your product. There's a lot of overlap between prototypes, mockups and wireframes, and different UX designers use each term in their own way. The important thing is that the first step is creating a simple version of your MVP to test the idea itself.
At eTeam we spend a week or more going through a complete brain dump with new clients. This is a critical phase to make sure everybody involved understands the founder's vision and has a technical plan to implement that very vision.
We usually use InVision to create prototypes. It's relatively quick to put together a good-looking prototype that provides a strong overall presentation of how a future user will interact with the finished product. Building, using, testing and revising interactive prototypes is a critical process that saves a lot of hassle down the road. It's always better if founders are more hands on during this phase—iteration cycles are quick and it's less expensive to make large scale changes at this point.
Rudimentary UX testing is also possible during this phase of development. This consists of checking whether users can complete simple tasks and are able to understand the basic workflow of your app. It can't be stressed enough that this is the best time to find major UX issues and correct them.
From Prototype to MVP
Here's where the rubber meets the road. Everyone from project managers to developers and designers should know what is expected of them. Agile style iterative development is still important, but each iteration stretches longer than it did during the prototyping phase. Concretely, this means weekly demos where the founder meets with the development team to check on progress and clarify anything that's still unclear.
At this point, the project manager is the main point of contact with a client. Our experience has shown that clear and open communication between a client and project manager is the real kicker for whether a project ends up being successful. That's why we devote a lot of time and energy to making this relationship work.
Land ho!
After a long sea voyage, land looms just across the horizon! While there's still plenty of nitty-gritty details to be worked out, once you've gotten to this point the hardest part is over. Next comes testing, deploying your MVP and long-term support. Once you have a strong relationship with your development agency, your time as a founder is freed up from managing the technical details that these steps entail. Instead, you can focus on getting clients, looking for funding and making sure your business needs are met—tasks that are much harder to entrust to an outside agency.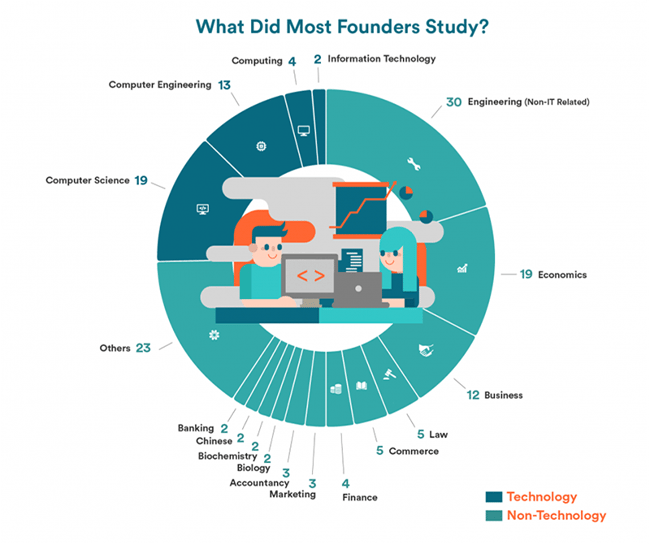 Non-technical founders are the majority, and finding a strong tech team is a must for founders.
The bottom line
Can you go through this whole process without a war chest bursting at the seams with VC money? In many cases, you absolutely can. At eTeam we've developed viable MVPs for startups for under 15k. Cliché though it be, this is just the beginning rather than the end. We've provided the entire engineering team for startups that have gone on to be acquired and were members of 500 Startups and the Cisco WebEx Innovation Fund. Whatever your startup's next step is, eTeam is there to support your tech needs.
Inspired to bring your startup idea to life? Let's chat.