As online retail has evolved and consumer expectations have risen, retailers need to meet these needs in order to retain customers.
Adding chatbots that allow shoppers to get instant customer service, making use of augmented reality to let people 'try on' products via their phones and even finding creating uses for the blockchain are the way forward for e-commerce.
A Seamless UX from Store to Website and App
User experience spans the breadth of a visit to a brick-and-mortar store, ordering an item online to using a chat app to handle customer service — following fundamental and consistent design principles makes it easier for customers to complete transactions.
69% of shopping carts are abandoned.

28% of online shoppers have abandoned a cart due to complex check out processes.
User experience is never a matter of mere aesthetics; it's a science of using design to help customers achieve the goals they came to your shop for. Everything from the color of buttons to fonts and how many taps it takes to check out has to be developed according to the principles of user-centered design (UCD).
UCD is the single best approach to building usable web applications.

Our own testing has shown that UX design can increase loyalty program signups by 60%.
Any design must be manually tested as even the best theories can fail in production. Many retailers decide to skimp on user testing, but this is a mistake that leads to serious design flaws being missed.
Engage Customers with Chatbots
Chatbots are changing how customers interact with retailers. Routine questions can be resolved in under a minute, creating a frictionless interaction for both customers and retailers. This frees up customer support representatives to tackle more complex problems.
80% of Companies Plan to Use Chatbots

by 2020

.

Chatbots are projected to be a $1.23 Billion industry by 2025.
Artificial intelligence is the technology underpinning virtual assistants and chatbots. The demand for data scientists and machine learning specialist who can develop and maintain chatbots is only growing for the foreseeable future. US retail stands to save $38 billion a year with chatbots.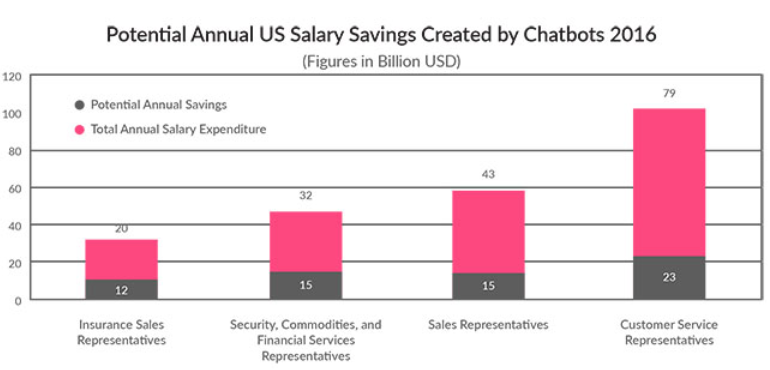 Source: McKinsey Estimation via BIInteligence Report, 2016
Note: Estimates are calculated against the potential of bots replacing these positions: Insurance sales rep=60% Security, Commodities and Finance rep=46%; Sales rep=36%; Customer Service rep=29%
US retail stands to save $38 billion a year with chatbots.
Shopping with Augmented and Virtual Reality
The in-store experience meets the comfort of online shopping with virtual reality. Customers can 'try on' clothing and accessories virtually or see how furniture would look in their home.
40% of consumers would spend more on products sold via an augmented reality experience.

By 2020, augmented reality will command $120 billion in revenue.
Product Categories for Which US Internet Users Would Like to Shop via augmented Reality, Aug 2016, % of respondents

Note: ages 18-64 Source: Interactions, "The Impact of Augmented Reality on Retail," Oct 18, 2016
US consumers already expect to shop via augmented reality.
Augmented reality works for both shoppers already inside a brick-and-mortar store or those browsing online. The UX can be incredibly easy to use: select a photo and see the product you're looking at in the photo, whether it be a new sofa, dish set or shirt. This will continue the trend of hybrid shopping that combines the brick-and-mortar experience with the convenience of e-commerce.
Blockchain Based Solutions
Emerging blockchain technology is a perfect fit for e-commerce innovation. Possibilities include providing proof of identity at the time of purchase, expanding payment options to include cryptocurrencies and proving the authenticity of reviews.
Current databases that merchants use for fraud detection are only available to large payment processors, which leaves smaller e-commerce sites vulnerable. Tying identity management to a blockchain would allow any retailer to guard against chargebacks and fraudulent payments.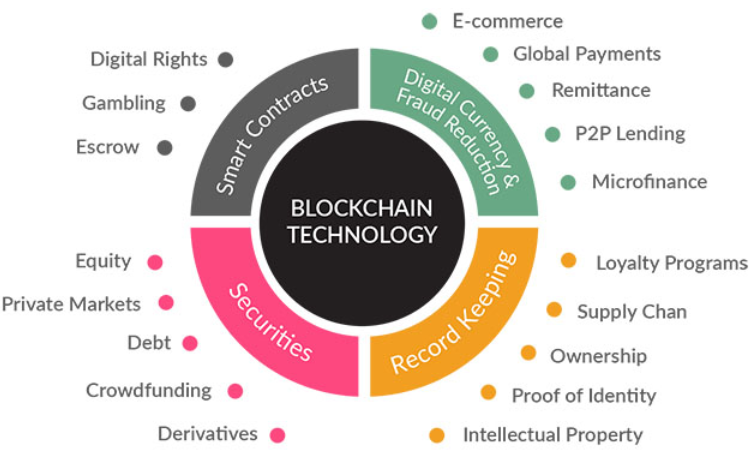 Blockchain technology has applications across retail and e-commerce.
The worlds of cryptocurrencies and traditional fiat money are no longer separate. Retailers looking to expand their customer base are already looking at options to accept a range of cryptocurrency payments. Hybrid solutions to process payments to and from cryptocurrencies and fiat currencies are in high demand.
Finding an e-commerce partner
At eTeam we've been working with e-commerce, retail and payment solutions since 2009. If you'd like to consult with one of our experts in the field about adding these features to your e-commerce shop, let's get in touch.