Digital transformation has taken businesses by storm. To stay competitive, companies are looking at new ways to improve their daily operations and keep customers happy in an increasingly demanding and dynamic world.
With digital transformation accounting for 40% of all technology spending, understanding which tools you should include in your SaaS toolkit is essential.
Ready-to-use tools can noticeably speed up digital adoption for your business. In this article, we`ll dive deeper into the impact of digital transformation tools by exploring:
The main areas they are making a difference in

Current technologies driving digital transformation

Tools you can start using right away to improve customer and employee experience and streamline operations
The three levels of digital transformation
Digital transformation is often misunderstood as a race for implementation of the latest technologies.
Who uses the most tools in their daily workflow?
How many subscriptions can your company afford on that cutting-edge platform?
However, a digital transformation approach is not about indiscriminately using technology. Rather, it`s a change that permeates all aspects of your business: processes, people, and technology included. The digital tools you invest in should support your organizational objectives on all three levels.
1. Processes
Software tools make complex business processes easier to manage. They can improve overall performance and support better decision-making, allowing companies a higher degree of transparency, predictability, and resilience. Let`s look at an industry-specific example.
Financial digital transformation
In the financial sector, companies are using digital transformation tools to enhance key operations like:
Compliance with legal and security regulations

Digitalization of paper-based processes and operations

Automation of manual workflows for tasks like document submission, loan processing, invoice payments, etc.

Data collection and analysis for various purposes, from predictive risk assessment and user feedback to business intelligence

Consolidation of disconnected business processes into centralized platforms
According to Prophix's 2023 Finance Leaders Survey, 92% of finance leaders are already automating or hoping to automate half of their processes by the end of this year.
2. People
Another area digital transformation has a significant impact on is customer and employee experience. By leveraging tools to empower employees and improve customer satisfaction, companies are not only creating a lasting experience, but they are also securing their growth as an organization.
Digital transformation tools can help employees navigate organizational changes and learn how to integrate new technologies into their own work.
3. Technology
Technology is the driving force behind digital transformation, enabling companies to improve the quality of their services and products, speed up delivery, create personalized experiences, and remain relevant in a crowded market.
Technologies like AI, Machine Learning, and data analytics are not only changing the business landscape as we know it but they are revolutionizing entire industries. One of such examples is retail.
Leveraging machine learning in retail digital transformation
Machine Learning is spearheading the digital revolution in the retail industry. Retail and eCommerce companies are using ML and analytics to solve a wide range of challenges, from optimizing logistics to improving the shopping experience.
You can read more on how ETEAM enabled one of our partners to create a unique shopping experience for their online store's customers using ML and personalized inventories in this article.
Key components of a digital transformation toolkit
Choosing the best technologies and tools is one of the most important steps while drafting your digital transformation strategy. Let`s take a closer look at some of the technologies and tools driving business transformation today.
Digital transformation frameworks
Think of frameworks as a compass. You can use them to navigate the challenges of digital transformation by putting in place a set of predefined steps and methods your team can follow.
Frameworks such as McKinsey's Three Horizons of Growth or Gartner`s Digital Transformation Roadmap enable companies to understand current needs and desired outcomes, identify innovation opportunities, and plan the transformation process.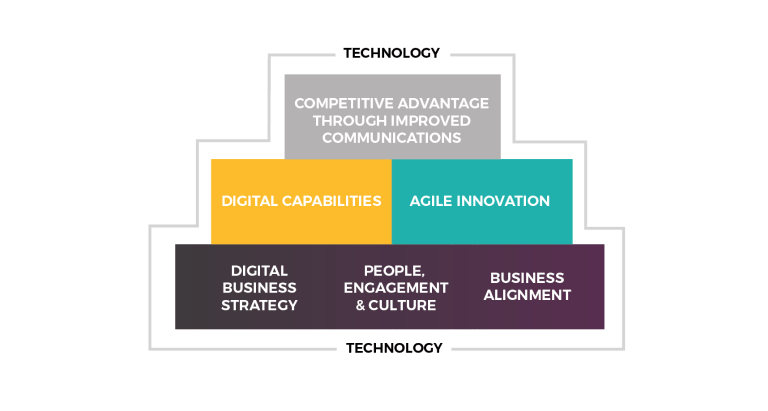 Source: Ionology
No-code/low-code tools
No-code and low-code tools have become an increasingly popular option for companies looking to expand their digital transformation toolkit with little or no coding.
No-code platforms give non-technical team members the ability to automate workflows and even build simple applications using drag & drop functionality and visual aids.
In comparison, low-code tools allow for a higher degree of customization, with an option to use code or scripting. However, the custom code needs to be carefully managed to avoid technical debt and change management problems. Many companies work with digital transformation consulting firms to prevent such issues and coordinate their digital transformation management efforts.
Integration and automation
Businesses are turning towards integration and automation tools as a way to eliminate repetitive tasks and enable seamless data exchange between departments, systems, and applications.
Ultimately, integration and automation go hand in hand, each reinforcing the benefits of the other. Integrated systems make possible the kind of end-to-end visibility necessary for automation, while automation orchestrates these processes.
Cloud technologies
Cloud technologies have been compared to a second industrial revolution. And rightly so. The cloud provides companies with the computing power, security, infrastructure, and storage they need for digital business transformation. Cloud SaaS platforms allow businesses to implement their digital transformation plans at the price of a subscription, with little investment in additional IT resources.
Artificial intelligence, analytics, and machine learning
Artificial Intelligence (AI) is at the heart of digital innovation, encompassing technologies like machine learning, natural language processing, and predictive analytics.
Digital twins are emerging as a practical application of IoT and AI in digital transformation. A digital twin is a virtual replica that is entirely faithful to the original, physical object. The digital simulation can provide data and insight otherwise inaccessible, allowing companies to develop, evaluate, and improve their products.
Ready-to-use tools for your digital transformation journey
Change is by definition an iterative process, so it`s always good to start with small steps.
Here are several ready-to-use tools you can start experimenting with in your digital transformation journey, broken down by category:
1. Customer experience
Cloud CRM
Adopting a cloud CRM is one of the first steps for improving customer relationships and increasing satisfaction. According to industry statistics, companies are keen to improve their relationships with clients as quickly as possible, with most businesses investing in CRMs within the first 5 years.
Depending on the size of your business you can choose between enterprise CRM platforms like Hubspot and Salesforce, or more lightweight solutions.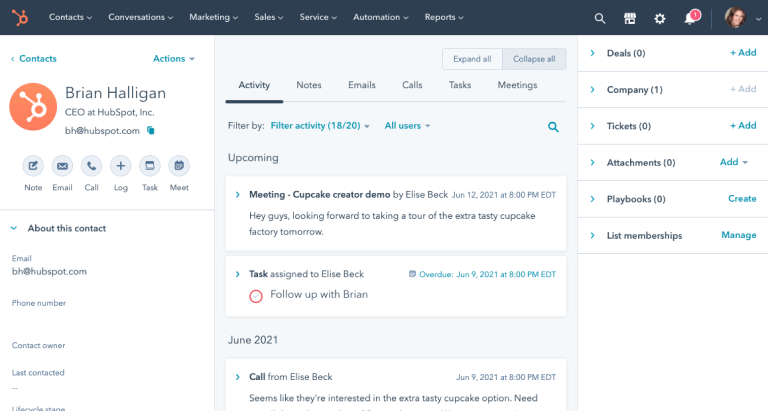 Source: Hubspot
Omnichannel engagement platforms
Your customers find you and interact with you through various channels. Omnichannel engagement platforms enable you to have consistent interactions with them regardless of platform or device.
AI-powered omnichannel platforms usually come with an ecosystem of marketing automation tools, including:
built-in chatbots to help customers solve issues and kick off conversations based on predefined scrips

pre-built customer journeys and message templates

AI-generated recommendations and audience targeting to help businesses deliver personalized experiences
Customer feedback tools
Understanding what your customers want and how they feel about your business or product is an integral part of any digital transformation strategy. Otherwise, how will you know what you need to change?
There are plenty of ways you can leverage feedback tools:
Survey platforms are an easy way to automate data collection and gain insight into your customers with little research cost. Survey tools usually come with various automation and analytics options and no-code builders that make creating questionnaires just a matter of drag & drop.

Feedback management tools use AI and machine learning to help you make sense of all types of customer feedback submitted across multiple channels, including social media. Customer feedback is gathered from multiple sources and consolidated in a single place to give you an overview of customer satisfaction.

Sentiment analysis tools scan text conversations using AI and evaluate the emotion and intent behind each message. Rather than going through each review, post, or comment one by one, you can save valuable time in understanding how your customers feel.

Behavior analytics tools show you how users interact with your website or software product through heatmaps, allowing you to gain valuable insight into their thought processes and experience. In combination with other usability testing tools or interviewing tools, behavior analytics is a powerful solution for assessing customer feedback.
2. Employee experience & company culture
Digital adoption platforms
Digital adoption is the key to successful digital transformation. It ensures everyone is moving at the same pace and empowers them to use new tools to their full potential. It`s not a coincidence that a lot of digital transformation efforts fail because employees haven`t been trained properly on new technologies.
Digital adoption platforms solve this challenge by allowing companies to create walkthroughs and tutorials that provide employees with in-app guidance. Platforms like Whatfix, Appcues, or Userlane are effective solutions both for employee and customer onboarding. They provide analytics to track what users are struggling with, feedback management, and even in-app communication so you can send messages directly to users to provide support.
HR and employee self-service platforms
You can`t have digital transformation without a solid alignment between company strategy and people management. Streamlining HR processes is an essential aspect of this. Consolidated HR platforms cover the entire employee lifecycle in a single application, with popular options including Bamboo HR and Workday.
These platforms bundle a large set of HR features into one system, including applicant tracking, hiring and onboarding, benefits, payroll processing, reporting, and analytics.
Most integrated HR solutions also feature employee self-service options. This empowers employees to perform tasks without HR support, including submitting and signing documents, managing their work and vacation times, or enrolling for benefits.
Employee recognition tools
Digital transformation and employee experience go hand in hand. If employees have a good experience in the workplace they are more likely to embrace change, while adopting new tools like employee recognition platforms can in turn increase their well-being. It`s an important feedback loop companies often overlook.
Digital recognition platforms are an important asset for your company culture, allowing employees to celebrate milestones, recognize each other`s good work, and receive rewards.
Knowledge management software
Asking employees to change the tools they use, their workflows, and even their behavior isn`t easy. Documenting the new processes and managing the distribution of information and expertise throughout the organization is essential in making employees feel supported. Together with digital adoption, knowledge management is a key aspect of any transformation strategy.

Knowledge management software helps companies store, organize, and share important information, often doubling as a process documentation and learning management tool. It acts as a single source of truth, allowing organizations to keep the information updated and employees to easily search, collaborate, and grow the knowledge base.
3. Workflows, processes & operations
Business Process Automation software
Automation is an essential part of digital transformation, making processes less error-prone and more efficient. Business Process Automation software (BPA) can be used for a variety of operations, from simple document management to complex integrations.
Basic automation uses RPA to automate simple, repetitive tasks like backing up files or data entry.

Process automation orchestrates entire workflows, end to end. Low-code platforms such as ActiveBatch, KissFlow, or UiPath allow companies to design automated flows by setting rules and conditions. They also come with process error validation capabilities, integration with other services through API, and task scheduling.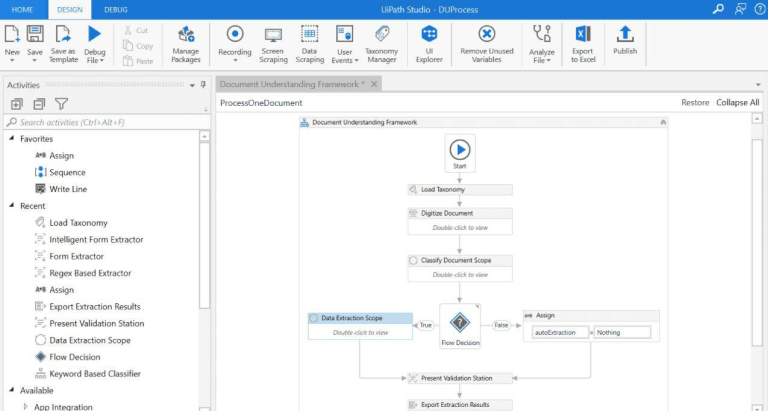 Source: UiPath
AI assistants
AI assistants can add another layer of automation to your existing processes and workflows. From taking notes in meetings to helping developers cut down on the amount of code they need to write, AI assistants are transforming how teams work.
They are at the forefront of productivity, supporting cross-functional teams to reach their specific goals, from sales and marketing to finance, design, and engineering.
Communication and collaboration tools
Improving operations and processes relies on good communication, especially if you are working in a fully remote environment. Communication and collaboration tools allow team members to exchange ideas, discuss projects, and stay aligned regarding important milestones. By using online tools, hybrid, and on-site companies can also improve their internal communication and keep everyone on the same page.
Available options range from simple communication tools, such as Slack or Discord, to integrated solutions like Microsoft Teams or Google Suite. If you are not interested in a suite, consider combining a chat tool with a project management platform for a streamlined experience. This will give you the best of both worlds without the need for more complex integrations.
Project Management platforms
Project management tools are indispensable allies in the digital transformation of your business. Platforms like ClickUp, Asana, Trello, or Jira allow teams to plan projects in detail, allocate resources accordingly, and track progress.
In addition to traditional project management features, some of these platforms also come with analytics and AI-powered tools and templates. For example, ClickUp offers pre-made AI prompts for marketing, sales, and engineering teams.
Analytics & Business Intelligence software
As your company grows and matures, Business Intelligence (BI) can provide additional insight into changes that need to be made. The goal of digital transformation is not to replicate existing processes in digital form, but to reimagine them into something significantly better. This is where BI comes in.

Analytics and BI software enable companies to make data-driven decisions, uncover innovation opportunities, and evaluate performance. Popular tools such as Microsoft Power BI, QlikSense, and Sisense integrate with various data sources and present data in a visual, easy-to-understand way through reports, dashboards, and charts.
4. Data & content management
Data integration platforms
Data siloes are one of the biggest challenges faced by companies undergoing digital transformation. Simply put, data siloes include any type of valuable data that is fragmented across departments and teams, making it hard for everyone to access it equally. This can lead not only to duplicate work but also to security issues because the company doesn't have end-to-end visibility over the data.
Data integration platforms address these challenges by storing and centralizing data from multiple sources into a single repository. Putting in place a coherent data pipeline is essential for data analysis and business intelligence, making it a prerequisite for enterprise digital transformation.
Digital asset management software
Just as data integration platforms centralize and organize business data, digital asset management tools handle all your images, videos, files, and branding materials in one place. Maintaining a consistent brand identity across digital channels is essential for businesses that want to stay ahead of the competition.
The efficient management of digital assets is the key to successful marketing efforts and smooth collaboration, with popular options including Bynder, Brandfolder, and MediaValet.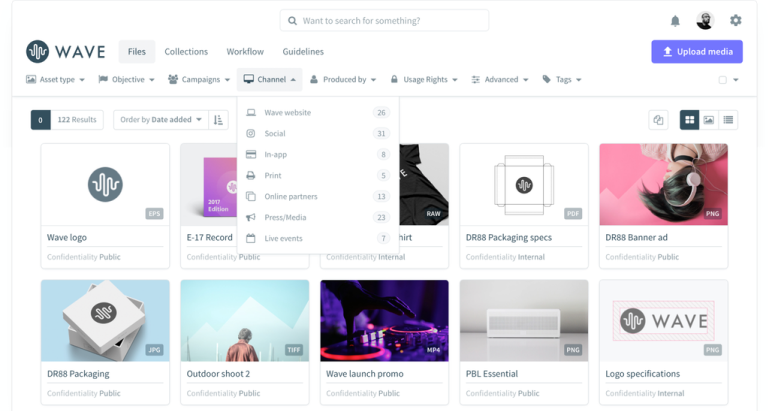 Source: Bynder
Cloud CMS
In the era of search engines, SEO, and content marketing, creating and managing digital content has become a necessity. If your company has a website, you are probably already using a CMS to upload, edit, and publish content on the web.
If you are looking for more customization options, consider developer-friendly solutions like WordPress, Drupal, or Joomla, that allow additional plugins, custom code, and modules for an enhanced user experience.
Conclusion
While there isn`t a one-size-fits-all solution to digital transformation, investing in the right tools can make this journey easier. Avoid buying software just to follow a trend and focus on aligning tools with your overall goals and objectives.
Ultimately, the role of digital transformation is to improve your organization as a whole, from business processes and workflows to employee well-being and customer experience.
At ETEAM we specialize in helping companies achieve their digital transformation goals through AI, machine learning, and automation. We`ve supported businesses in fintech, retail, and marketing to level up their digital tools and customize them to fit their evolving needs.