As a certified AWS consulting partner, eTeam solves clients' challenges by providing cloud computing technology solutions, product engineering and consulting services. Read the case study below to find out how optimize the AWS usage and reduce its costs up to 50%.
About Armatic
Armatic is fintech solution geared toward helping SaaS companies automate their billing and payment processes. The platform provides integrated automated communication tools, including e-mail, SMS, letters, and phone calls.
The Challenge
When Armatic was initially configured on AWS, an ad hoc solution that 'just worked' at the time was used. As the company expanded, this solution proved untenable. That's why Armatic turned to eTeam's AWS experts to optimize their AWS usage in several critical business areas:
1. Automate the configuration of new instances instead of using labor-intensive manual setups.
2. Increase the efficiency with autoscaling and thereby reduce costs.
3. Create redundancy to allow for 100% uptime.
The Solution
Per the our customer's requirements for replication, low-cost maintainability and server uptime, eTeam recommended and subsequently implemented Amazon RDS autoscaling and load balancing for three services within Armatic. This allowed for separately scaling resources per load requirements.
Additionally, the nature of the the client's product required advanced security solutions. This was a natural fit for using AWS to encrypt data at rest as well as the configuration of the VPC and overall network containing the database.
Armatic was also about to expand their product offering using AWS. Amazon API Gateway is being delivered in order to directly call a Lambda function that converts a PDF into an image.
The figure below illustrates Armatic's environment in AWS: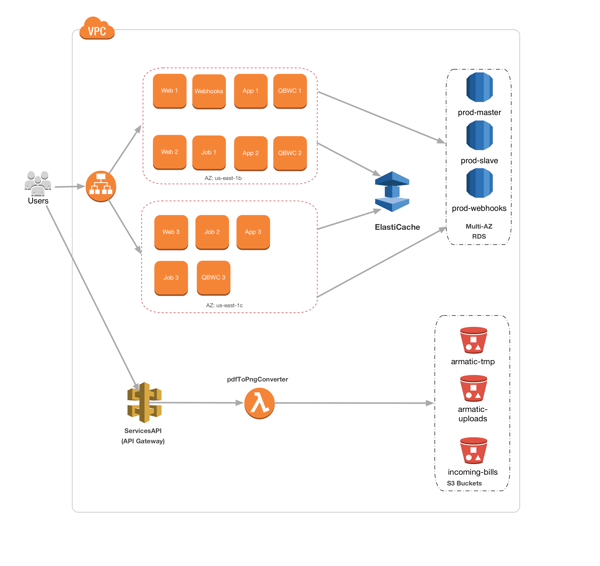 The Result
After the solution was implemented, the client reduced their AWS costs by 20–50% each month. Additionally, several hours of engineering time were saved each month as instances no longer had to be manually configured during usage spikes.
eTeam is a certified AWS consulting partner and we are ready to discuss how we can help your company optimize your cloud hosting, improve uptime during seasonal fluctuations, access real-time analytics and get business critical alerts.